from – http://www.equinechronicle.com/courageous-mare-uses-own-body-to-shield-foal-from-fire/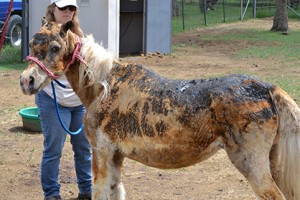 During the early morning hours of April 6th, 2014, a North Texas family awoke to every horse owner's worst nightmare. A heating lamp located within their barn had shorted out and sparked an electrical fire that quickly engulfed the entire building. Trapped inside was their beloved pony, "Bella," and her new foal, "Butterscotch."
The pair narrowly escaped but sustained life-threatening injuries as a result of the blaze. Of the two, Bella fared the worst enduring serious burns over the majority of her body. In addition, the damaging effects of smoke inhalation was a major concern.
Due to the extreme nature of the ponies' injuries, the family reached out to the Humane Society of North Texas in hopes they could save Bella and Butterscotch.
"When we arrived, it was clear that Bella's prognosis was bleak," says a HSNT representative. "She suffered severe burns to the majority of her body and the billowing smoke she had inhaled had scorched her lungs. We rushed the pair to the care of an equine specialist, fearing the worst."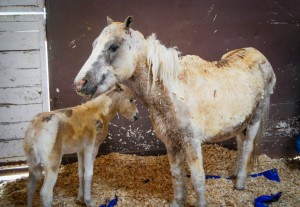 "Just two weeks later, Bella has made amazing progress thanks to the meticulous, around-the-clock medical care provided by our dedicated staff and volunteers."
The latest update from veterinarians on April 23rd showed both ponies to be in good spirits. The once terribly frightened Butterscotch has become more inquisitive and is beginning to make new friends with staff and volunteers. Bella's condition is improving, however she does have signs of an infection in some of the deeper burns on her neck and may need specialized ear surgery.
In an effort to raise money for the ponies' treatment, HSNT set an initial goal of $4,000. Through the help of animal lovers from around the world, that mark was quickly met. However, it has become clear that Bella and Buttersotch's treatment will cost much more than  was anticipated.
"Bella is currently in an equine clinic who is providing advanced around-the-clock care to help her fight off the beginnings of a skin infection," says HCNT. "Our medical team is also concerned that she may need ear surgery and lifelong ear care. Butterscotch is doing extremely well and is staying strong next to her mother through all of her treatment."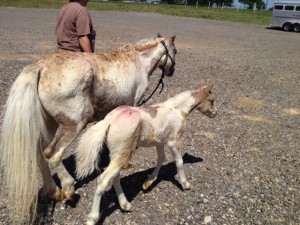 "Donations help us cure these deserving ponies and animals like them who are in need each and every day. We are in contact with her former owners and are giving them updates about her progress. Once she has healed, we will be assessing her medical needs and she and Butterscotch will either return to their former owners' care or enter our adoption program to find a loving, forever home."